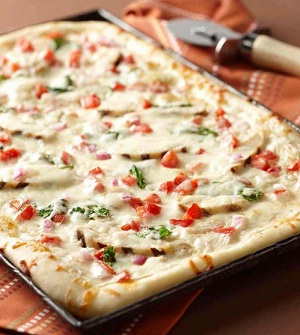 Preparation time : 50 min. | Serves 8 pieces
This Alfredo Chicken Pizza is prepared with grilled chicken, spinach and alfredo sauce. You may also add other veggies like broccoli, bell peppers, etc. You can use ready-made alfredo sauce to save your time.
Ingredients:
¾ lb boneless skinless chicken breast
Freshly ground black pepper as required
Salt to taste
2 tbsp butter
4 clove garlic (minced)
1 tsp red pepper flakes
1 tbsp all-purpose flour
1 cup heavy cream
¼ cup grated Parmesan cheese
16 oz pizza dough
2 cup baby spinach (well washed and dried)
1 cup grape tomatoes (chopped)
1 cup grated mozzarella
Olive oil for brushing crust
Procedure:
1. Preheat the oven to 375 degrees F.
2. Marinate chicken with with half of minced garlic, salt and pepper and leave for 15 mins.
3. After that heat grill pan with 2-3 tbsp of oil and grill chicken over the grill pan until become completely done, it would take 8-10 min over medium-low heat. Then cut the grilled chicken into small chunks.
4. To prepare alfredo sauce, melt butter in a sauce pan, saute remaining garlic and red pepper flakes for just a min.
5. Add in flour and cook till pleasant roasted smell starts to come but should not turn into brown.
6. Now add cream and mix well, cook the mixture over low heat until sauce gets thick.
7. Then remove the pan from heat and immediately stir sauce with seasoning of salt and pepper and parmesan.
8. After that dust your counter with flour to roll out the pizza dough as per your size of the pan (preferably 13-inch round pan).
9. Put the rolled pizza dough on to the warm pizza pan or stone spread it evenly at the base.
10. Pour the prepared alfredo sauce over the dough, place the baby spinach, grape tomatoes, grilled chicken and mozzarella cheese. In the end brush the edges of the crust with olive oil and season with
salt and pepper (if desire).
11. Place the pan in preheated oven about 25 mins. until crisp and golden brown.
photo source : 1