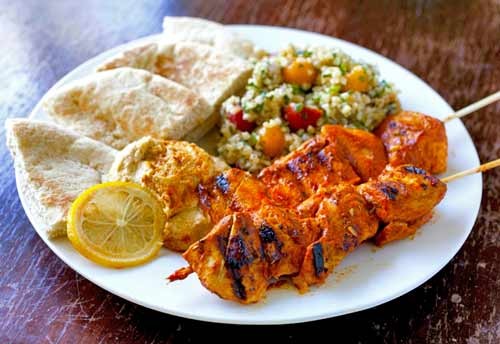 Preparation time : 20 mins. + 1 hr. Marinating time | Serves 2-4 persons
This Shish Taouk Recipe is taken from Lebanese cuisine where it is a very famous bbq food. It is prepared with their traditional spices like sumac, which actually develops its flavor. It is usually served with traditional pita bread and tabouli.
Ingredients:
lb boneless chicken (cubed)
½ cup Greek yogurt
2 tsp sumac
2 tbsp lemon juice
1 tbsp crushed garlic
¼ cup tomato puree
¼ cup olive oil
½ tsp white pepper
½ tsp black pepper
1 tsp paprika
½ tsp oregano
1 tsp salt
Procedure:
1. Marinate chicken with the ingredients mentioned above and leave for at least an hour so that all flavors absorb well in the chicken.
2. After that put the chicken cubes on skewers and grill them either on the charcoal grill or onto the grill pan whichever easily available to you. Grill the chicken pieces until they turn into brown in color and cook completely from inside. Keep brushing oil while grilling so that they remain moist from outside.
3. Serve the hot Shish Taouk with tabouli, hummus and pita bread.
photo source : 1