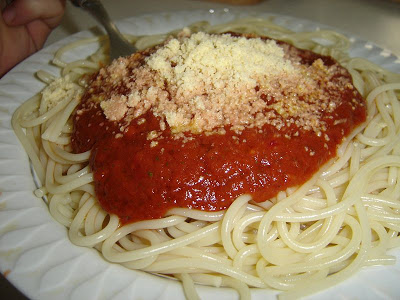 Preparation time : 10 mins.
This is an easy spaghetti or pasta sauce recipe from Italian cuisine. You may use cornstarch in the end to get the desired thickness of sauce.
Ingredients:
1 tbsp olive oil
3 medium onions (chopped)
1 green pepper (chopped)
8 medium tomatoes (chopped and seeded)
1 jalapeno pepper (seeded and chopped)
1 tbsp brown sugar
1 tbsp Italian seasoning
1 1/4 tsp salt
1/4 tsp pepper
1 cup water
1 package hot cooked pasta
Parmesan cheese as required
Procedure:
1. In the sauce pan heat oil to saute onions and green pepper for 3-4 mins until become tender.
2. Now add tomatoes, jalapeno, brown sugar, Italian seasoning, salt, pepper and water. Cook for 4-5 mins until sauce would become thick.
3. Pour this sauce on the hot pasta and sprinkle Parmesan cheese on top.