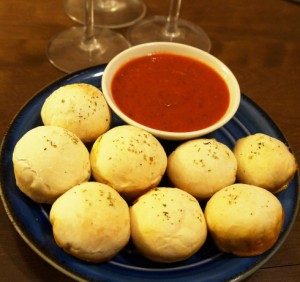 Preparation time: 40 mins. | Serves 30 rolls
This Pepperoni Rolls Recipe is another variation of Italian-style bread rolls. In these roles, pepperoni slices are stuffed along with some cheese under the buttermilk biscuit dough, the rolls are then topped with some herbs. You can make these rolls in your style, for instance, add some pizza sauce in the stuffing or as a topping.
Ingredients:
3 cans of Pillsbury Buttermilk Biscuits
56 pepperoni slices or as required
30 Monterey Jack cheese cubes
Parmesan cheese as required
Italian seasoning for topping
2-3 tbsp melted butter
1 jar pizza sauce
Procedure:
1. Take out the biscuits from the can and flatten each of the dough to make a round circle of around 2".
2. Spread ½ tbsp of pizza sauce over the dough, place a slice of pepperoni on it, then place a cube of cheese and cover it with another pepperoni slice. Wrap this stack of filling by bringing all the corners of the biscuit together and seal it properly.
3. Place the seam side down onto the greased baking tray, brush the top side with butter, and sprinkle some Italian seasoning.
4. Bake the pepperoni rolls in preheated oven at 425°F for 18-20 mins.until becomes golden brown from the top.