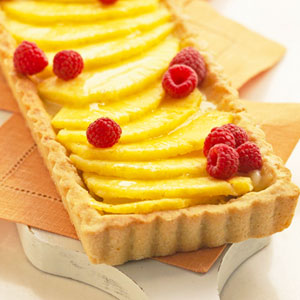 Preparation time : 40 mins. | Serves 6 persons
This pineapple tart recipe is prepared with vanilla custard filling which is then top with pineapple chunks and raspberries. The tart is simple and easy as it only requires baking base and just need to add prepared custard into it.
Ingredients:
For Tart:
7 oz butter
3.5 oz caster sugar
3 cup all purpose flour
1 egg
1 tsp vanilla essence
For Filling:
1 cup milk
2 tbsp custard powder
2 tbsp caster sugar
½ tsp vanilla essence
Pineapple chunks as required
Glazed raspberries as required
Procedure:
1. In a large mixing bowl cream together butter and sugar till gets fluffy.
2. Add in egg and beat again to mix well.
3. Then gradually add flour and mix it at low speed, when all flour mixes well with the rest of ingredients then take it out onto the counter and knead it using your hand and dust flour to make it smooth soft dough.
4. After that sprinkle flour on table, roll the dough and cut it using pastry cutter according to the size of your tart tray.
5. Now put the rolled dough in a tart tray and bake for 20 mins. at 375 degrees F, then remove and cool to room temperature.
6. Meanwhile prepare custard, bring milk to boil, add in sugar and cook till sugar dissolves completely.
7. Dissolve custard in 2-4 tbsp of water or cold milk, pour it into the milk mixture and stir constantly to avoid making lumps. When custard gets smooth and thick remove it from heat and cool to room temperature.
8. Now start pouring custard into baked tart, then top it with pineapple chunks and glazed raspberries.
photo source : 1