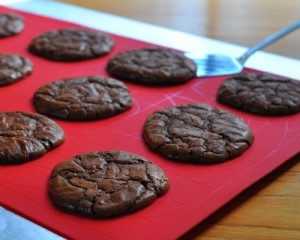 Preparation time : 30 mins. | Serves 18-20 cookies
These mocha cookies are very delicious as it has both chocolate and coffee flavor. You can prepare these cookies for tea parties or you can make yummy desserts with these mocha cookies by soaking it in the milk to make it soft and then add in to some sort of souffle or mousse batter which gives awesome flavor.
Ingredients:
½ cup butter
1 ½ cup chocolate chips
1 tbsp coffee
2 eggs
¾ cup caster sugar
¾ cup brown sugar
1 tbsp vanilla essence
2 cup flour
⅓ cup cocoa powder
½ tsp baking powder
¼ tsp salt
Procedure:
1. In a saucepan, melt together butter and ½ cup chocolate chips.
2. Then remove the pan from heat and add coffee and stir well to mix.
3. Add in egg, brown sugar, caster sugar and vanilla essence to the chocolate coffee mixture and mix well.
4. Sift together dry ingredients including flour, baking powder, cocoa and salt and then fold it into the chocolate mixture along with the remaining chips.
5. When all the ingredients incorporate well, then drop by teaspoonful of batter onto the greased baking tray and make sure that they must be 2 inches apart
6. After that place the baking sheet into the preheated oven at 350 degrees F for 10-12 mins. till the top of each cookies get cracked. Then take the sheet out from oven and cool on wire rack to get cookies firm.
photo source : 1