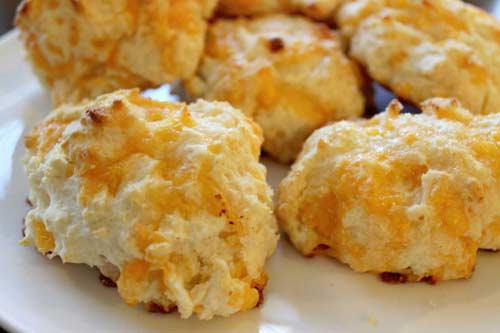 Preparation time : 45 mins | Serves 24 biscuits
This is a different biscuit recipe full of cheesy flavors. You may add other flavor like Italian seasoning to make it more delicious. For more cheesy recipes, refer to the book
Cheese, Glorious Cheese
having more than 75 Tempting Recipes for Cheese Lovers.
Ingredients:
1/2 cup milk
2 tbsp margarine
1/2 cup all-purpose flour
2 eggs
1/2 cup shredded Cheddar cheese
1/4 cup Parmesan cheese
1/4 cup chopped onion
1/4 tsp garlic powder
1/4 tsp crushed black pepper
Procedure:
1. Boil milk with butter in a sauce pan.
2. Add flour to the milk mixture and stir continuously so that lumps would not form.
3. When the flour mixes well in the milk then remove the pan from heat and let it cool to room temperature.
4. After that add eggs, one by one and beat well.
5. Now add cheese, onion, garlic powder and pepper and mix Until become smooth.
6. Take a greased baking tray and drop the batter at distances using teaspoon 2 inch apart. Bake at 350 degrees F for 25-30 mins. until become golden brown.
photo source : 1