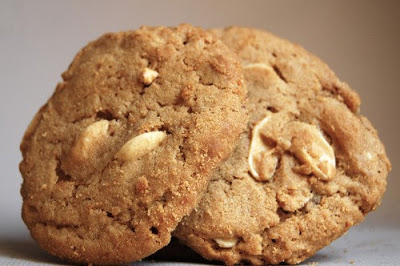 Preparation time : 30 mins + 2 hours Refrigeration time | Serves 4 dozen
This is peanut flavor cookies recipe whose dough is almost the same as other cookie dough. Addition of different kinds of nuts result in different flavor cookies. To learn the art of cookie baking, refer to the cookbook The Good Cookie which has 250 recipes of cookie of all skill levels.
Ingredients :
200 gm butter (softened)
300 gm brown sugar
2 cups of flour
2 eggs
2 tspn vanilla extract
1/2 tspn baking soda
2 cup peanuts
Procedure :
1. Preheat oven to 350 degrees.
2. In a mixing bowl, beat butter and sugar together to make creamy paste.
3. Now add eggs one by one and beat so that a fluffy batter would form.
4. Mix dry ingredients separately. Put the butter mixture in dough mixer and then add dry mixture gradually to the butter mixture so that a dough would form.
5. In the end add vanilla extract and peanuts and mix.
6. Divide the dough into two pieces, roll each of them and wrap in plastic sheet and place in fridge for 2 hours.
7. After that take a piece of dough and cut it into small discs and place on cookie sheet keeping distance between them. Place the baking tray in preheated oven for jsut 10 mins until they become light golden.