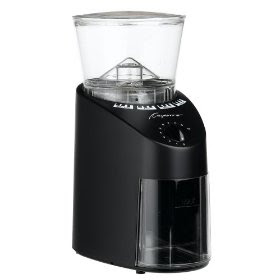 [asa]B0000AR7SY[/asa]
Here is another coffee grinder review in our review section, this capresso conical burr grinder has some more advanced function as compare to the previous one and it is particularly used for grinding large amount of coffee hence it is also called commercial grade infinity grinder but can also be suitable for large families. It has capability to easily grind 8-1/2 ounce of coffee to the desired grinding level. As far as the grinding options are concerned, so there are 4 major options available which includes Coarse, Medium, Fine and Extra Fine, under these options further sub options are available which help you to get the desired flavor and taste of coffee. A rare grinding feature which hardly found in any burr grinder is that is preparation of Turkish Coffee which can be prepared by manual settings at two different finest level.

Like other commercial grinders its conical burr design keep the control on the grinding torque while the motor speed slows down, the reduction gearing in motor only reduces the speed without disturbing the torque so prevents dust and retains the heat and aroma of the coffee. The grinder container contains the grind-ed coffee which has a capacity of 4 ounce and is safely locked while the grinding is in process hence there will be no mess on the counter.

When the grinding is in progress you don't even need to stay there to press the start button because the timer setting allows you to set the grinding time ranges from 5-60 seconds. The cleaning of container and grinder is easy as they can be safely lifted off from the assembly.
This capresso conical burr grinder is available in two colors black and stainless. You can easily buy this capresso conical burr grinder at Amazon as it offers you 26% discount on purchasing this item with FREE shipping. You can get the list of best selling food grinders and mills which are updated every day.