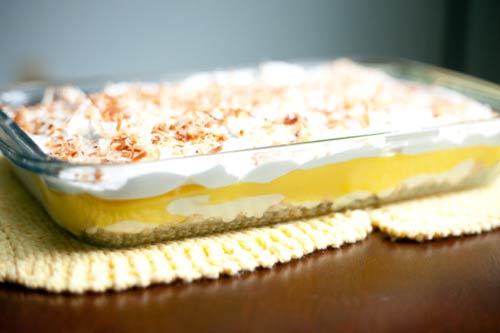 Preparation time: 30 mins. + Refrigeration time | Serves 8-10 persons
This Lemon Lush Recipe is one of the most tempting desserts prepared in layers. The layers consist of nuts crust, cream cheese batter, lemon pudding, and cool whip. In this recipe, the crust is prepared with wafer crumbs and pecans but you may also prepare it with other nuts.
Ingredients:
½ cup chopped pecans
¼ cup brown sugar
1 stick melted butter
2 cups vanilla wafer crumbs
16 oz cream cheese (softened)
1½ cups powdered sugar
1 tsp pure vanilla extract
2 tbsp lemon juice
18 oz cool whip
2 small boxes of instant lemon pudding
3 cups whole milk
¼ cup toasted shredded coconut
Procedure:
1. Combine butter, pecans, brown sugar, and wafer crumbs, and mix well. Press this mixture firmly onto the bottom of the rectangular baking dish.
2. Bake in preheated oven at 350°F for 15 mins. until lightly golden and set.
3. Meanwhile, in a mixing bowl cream together cream cheese and sugar until become light and fluffy.
4. Add vanilla, lemon juice, and half of the cool whip and whisk well to make a uniform fluffy batter.
5. In another bowl, whisk together lemon pudding and milk until thickened.
6. Now pour the prepared cream cheese batter on top of the cooled pecan crust layer and spread it evenly.
7. Then spread the lemon pudding mixture over the cream cheese layer and in the end spread the remaining cool whip on top. Refrigerate for 3-4 hrs. or until it gets firm.
8. After that sprinkle the toasted coconut on top and then serve the delicious Lemon Lush after cutting it into slices.