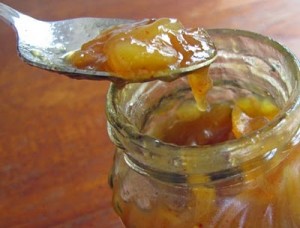 Preparation time : 20 mins
This apple chutney is from Pakistani cuisine which is little spicy and sweet and sour in flavor. It is better to use sour and juicy apples so that the taste of chutney would become naturally sour and hence amount of vinegar will be reduced. This chutney can be served with different meals like veggies. lentils curry, potato pancake, etc.
Ingredients:
2 kg apples (peel and cut into small cubes)
½ cup sugar or to taste
½ cup vinegar
2 tbsp ginger (minced)
1 tsp crushed red chili
1 tsp salt or to taste
Procedure:
1. In a sauce pan boil apples in 3 cups of water.
2. When apples become soft add ginger, red chili, sugar, salt and vinegar and cook on medium heat until the syrup starts to thick.
3. When syrup gets the desired consistency then pour the hot apple chutney in an air tight jar. This chutney can last for a month.
photo source : 1