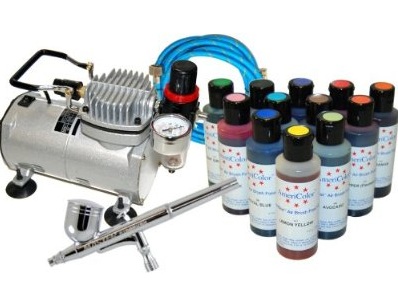 [asa]B001ESKYTE[/asa]
Above photo is an airbrush kit by Master Airbrush. It is one of the best starter airbrush kits for cake decoration and for decorating other baked items. For those who have a hobby of decorating cakes and pastries or those starting their own cake decoration business, this airbrush kit will turn out to be one of the best decoration tools they can have. Continue reading below to learn more about the Master Airbrush kit.
This airbrush kit contains:
One Airbrush
One Compressor
One Hose
Twelve Food colors
The Airbrush model in this cake decoration kit is G22 precision dual-action gravity feed airbrush. It has a 0.3mm nozzle/needle with a 1/3 ounce of gravity fluid cup. The airbrush is connected to the mini air compressor via 6 feet long hose. The air compressor used in this airbrush kit is maintenance free plus it has a very handy auto ON/OFF and shutoff feature that ensures safe operation. The air compressor also has an air pressure regulator so you can adjust the pressure of your spray without blowing away your cake icing and rest of the decorations.
This Airbrush kit contains 12 most popular food colors each packed in a 4.5 oz bottle. These are the most popular and mostly used AmeriMist Airbrush food colors. These offer more concentrated spray-on plus these are more effective as compared to other low quality food colors.
Where To Buy ?
The Airbrush Kit with air compressor and food colors is available at Amazon.com (with FAST shipping) at a special discount price.