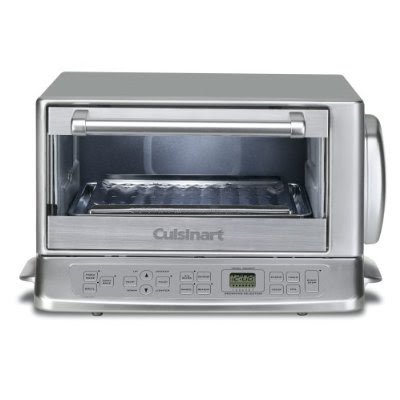 [asa]B000PYF768[/asa]
This week in our review spot light is one of the most talked about toaster ovens i.e the Cuisinart Toaster Oven broiler TOB 195 with convection oven feature. If you are looking for a toaster that can also bake, broil or reheat then this might be a heavy investment but viewing it from the other side, this is an actual countertop oven with all the features of a convection oven plus it can also toast up to 6 slices at a time.First lets have a look at its interior and exterior design.
Measuring 17.75 inch wide, 9.63 inch high and 16 inch deep this oven toaster can bake up to 12 inches of pizza, cake whole chicken etc. It has a capacity of 0.6 cubic foot. It has a stainless steel front panel and rest of the exterior including its handle also made of brushed stainless steel which gives this toaster oven a bit commercial oven like appearance and not only that, it also looks great on any kitchen countertop. The interior is coated with non-stick material so this makes cleaning of the entire unit very simple and easy. This Cuisinart toaster Oven Broiler has a bread crumbs tray that easily slides out from the back. The oven rack can be adjusted at two possible heights. This toaster oven also has a slot for cord storage.
Unlike many other countertop ovens and toasters, this Cuisinart Toaster Oven Broiler has all its controls below its door. This limits the extra width of this appliance and makes this a great counter top oven that also works as a toaster. All the controls and displays on this Cuisinart convection toaster Oven TOB 195 are electronic so you will not have to rotate a knob to adjust the temperature or look at the temperature dial to guess whether it show the accurate temperature or not. The control panel also has a digital clock plus a timer.
Now comes the real part i.e what exactly this toaster oven is capable of. Cuisinart has marked clearly on this item that this should not be used for commercial purpose and is only intended for home usage. It has a power rating of 1500 Watts which is sufficient amount of energy required to operate an oven of this size. This Cuisinart Toaster Oven Broiler can bake, broil, defrost, reheat, roast, brown and will also do conventional as well as convection baking. The convection baking is what this Cuisinart oven is picked for as convection baking cuts down the baking and preheating time by 30%. The timer alerts you when your desired temperature has reached in the oven so that you can place your food inside.  Click here to learn about some other Best Toaster Ovens having more extra features and ergonmic design.
This Cuisinart convection toaster oven TOB 195 can easily be purchased online via many retailers. Some are selling it for over $180 excluding shipping charges but you can easily get it from Amazon (with FREE shipping) for even less than $150. You can also browse the list of Best Selling Oven Toasters that are updated every hour each day.
When you purchase this Cuisinart toaster Oven Broiler, you will also get an instruction manual plus a recipe book which contains more than 20 easy to make recipes.