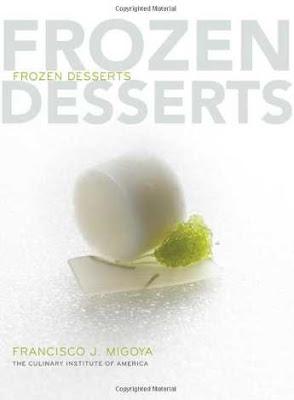 Book Title : Frozen Desserts
Published : Aug 2008
No. of Pages : 448 pages
Binding : Hardcover
Author : Culinary Institute of America(CIA): Francisco J. Migoya
In-Stock : Check status

About This Book:
Frozen Desserts is a book written by a master Pastry chef Instructor. It contains very comprehensive information about frozen dessert production which is the basis of making desserts with elegance and style. The book contains a total of 8 chapters namely:
Chapter 1: A Brief History of Frozen Desserts.
Chapter 2: Ingredients.
Chapter 3: Machines, Tools, and Equipment.
Chapter 4: Dairy-Based Frozen Desserts / Machine Churned or

Pacotized

.
Chapter 5: Non-Dairy Frozen Desserts / Machine Churned or

Pacotized

/ Scraped and Shaved.
Chapter 6: Aerated Still-Frozen Desserts.
Chapter 7: Finished Items.
Chapter 8: Base Recipes.
The first half of the book provides very basic information about frozen desserts such as its history, ingredients, equipment, storage and serving techniques. In this portion of the book, the author sheds some light on the evolution of desserts particularly frozen desserts. Then he explains the importance of ingredients such as fruits, stabilizers, sugar, dairy and other ingredients required in order to make a perfect frozen dessert. Then the author writes about the equipment that are to be used for dessert making. The equipments include churning machines, production equipment, storage and serving containers. Finally he shares about the important techniques used for storage, sanitation and serving of frozen desserts so that they remain in best shape and taste when they are about to be served.
The second half of this book contains recipes of dairy-based, dairy free desserts and aerated yet frozen desserts. The recipes of dairy desserts include sherbat, gelato, ice cream and many other mouth watering dairy desserts. Recipes of dairy free desserts include granites, sorbet and other delicious desserts. Finally there are aerated desserts are are still frozen desserts and these include mousses, souffles, parfaits, semi-freddos and many other similar recipes. This book also contains some very immense color photographs of desserts which will help the reader have a closer look of what the dessert looks like when in the process of being made or in finished form.
Excerpts from the book Frozen Deserts: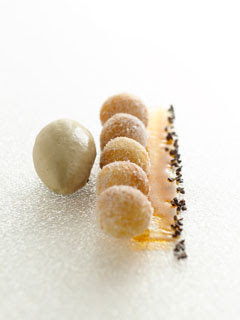 The base recipe that are provided in each chapter are well utilized in the final chapter , 'Finished Items' to show the readers how easy it is to product, plate, garnish, serve small desserts, plated desserts, frozen cakes and even frozen accompaniments to savory courses.
[asa]0470118660[/asa]
About Author:

Francisco J. Migoya was trained as a cook but later he discovered that he had more interest in pastry making. He had worked as an Executive Pastry Chef in one of the top rated restaurants in the world,The French Laundry in California. Currently he is a full time chef instructor in the Culinary Institute of America (CIA).The book Frozen Desserts is the only book Francisco Migoya has written so far to share his wealth of knowledge and skills in both dairy and dairy free desserts making.

Related Books:
Desserts by the Yard: From Brooklyn to Beverly Hills: Recipes from the Sweetest Life Ever (Hardcover)
Dessert

FourPlay

: Sweet Quartets from a Four-Star Pastry Chef (Hardcover)
The All-American Dessert Book (Hardcover)
Chocolate Desserts by Pierre

Herme

(Hardcover)
Related Products: