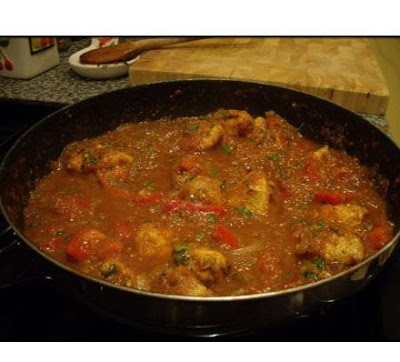 Preparation time : 35 mins | Serves 4 persons
Jalfrezi is a pure Indian food in which marinated meat is cooked in gravy with vegetables, it is prepared with different types of meat like chicken, prawns, beef and mutton. Here is shared the most common recipe of chicken jalfrezi in which capsicum, onion, tomato and spring onions are used. You can also add different colors of capsicums to make this gravy more colorful. Try this delicious chicken jalfrezi recipe at home and enjoy it with fried rice or naan.

Ingredients:
500 gm boneless chicken (cut in small cubes)
1 cup tomato paste
4 medium size tomato (take out all the seeds and then cut into small cubes)
1/2 tnspn garlic paste
1/2 tbspn ginger paste
2 tbspn curry powder
1 tspn red chili powder
1 tspn turmeric powder
2 tbspn soya sauce
3 tbspn white vinegar
1 tspn black pepper
Salt to taste
2 medium size capsicum (cut into large square pieces)
1 medium size onion (separate each layer and cut into large pieces)
Chopped spring onion leaves for garnishing
1/2 cup oil
Procedure:
1. In a mixing bowl, marinate chicken in soya sauce, vinegar and black pepper for 15-20 minutes.
2. While chicken is left for marination, make gravy for the jalfrezi for that put oil in a sauce pan and add ginger garlic paste, tomato paste, half tomato pieces, curry powder, red chili powder, turmeric powder and salt.
3. Mix all these ingredients and cook them in half cup of water on medium flame to make smooth gravy.
4. After 8-10 minutes when oil starts to separate from the gravy, stir the gravy mixture for a minute and then turn off the flame.
5. After 20 minutes put the marinated chicken pieces in the gravy and let them cook on medium high flame for 10-15 minutes.
6. When chicken is done 3/4, add rest of the vegetables including tomato, onion and capsicum and cover the pan to cook on low flame for 10 minutes more so that chicken become completely soft and vegetables absorb all the flavors.
7. After that switch off the flame, take out the chicken jalfrezi in beautiful serving platter and sprinkle some spring onion for garnishing.