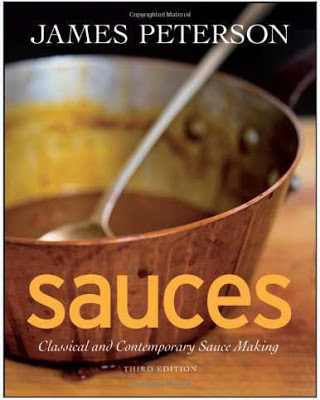 Book Title : Sauces – Classical and Contemporary Sauce Making
Published : September 2008

No. of Pages : 640 pages

Binding : Hardcover
Author : James Peterson
In-Stock : Check status

About This Book:
Since the author of this book, Sauces received his chef training in France so there is no surprise to find out that this book contains a lot of information on French sauces and their step by step sauce making instructions. These include:
Velouté
Béchameld
Emi-glace
Hollandaise
Mayonnaise
Crème Anglaise and many more.
This book also contains a variety of contemporary sauces such as pan sauces, purees, salsas, pasta sauces as well as Asian curry sauces. This book contains not just the recipes of sauces but it provides complete dish recipes too. This is something that other cookbooks on the same subject do not offer and it also gives this book the upper hand in showing how food and sauce making are closely related and thus proving the point on how a wisely prepared sauce can add five stars to a well cooked meal.
Exclusive Excerpts from This Book : Sauces

This book contains a total of 640 pages comprising of 440 classical as well as contemporary sauces along with complete dishes. The amazing color photos present throughout the book are also a great asset in understanding and determining when a sauce is at its best when in the process of being made. This book will turn out to be a great addition to the collection of those who are inspired by French food particularly French sauces.
[asa]0470194960[/asa]
About Author:
James Peterson was trained as a chef in France. Before he opened his own restaurant, he had already worked in several high profile French restaurants. Over the past years he has taught many professional cooks and cooking enthusiasts at the French Culinary Institute and the Institute of Culinary Education New York. He has written over a dozen books on the subject of cooking and four of his publications have received "Cookbook of the Year" award including this book, Sauces.
Other Books by James Peterson:

Related Books:
Related Products :