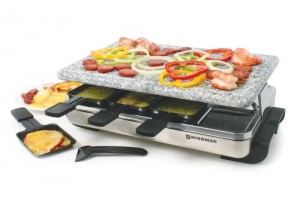 Raclette Party Grill is a cooking equipment originated from Switzerland where it is used in home parties. Swissmar is one of a big producer of such grilling equipment and this Swissmar Raclette Party Grill KF-77081 is one of its best model.
The Swissmar Granite Stone Party Grill consists of following main parts;
Base – contains heating element
9 1/2″ x 14 1/2″ Granite-stone grill top – for cooking stuffs
8 spatulas – for handling the food
8 raclette dishes – for melting cheese and cooking other stuffs
Whereas the body if the base is made of brushed stainless steel housing and has Stay-cool handles. Though all the above removable parts are dishwasher safe but hand washing is recommended for long life. On the other hand, what you should not use for this party grill is cooking spray before cooking and don't use steel wool, wire brushes or scouring detergents as the dishes are made nonstick.
[asa]B000RWJ2W8[/asa]
Lets see what this Swissmar Raclette Party Grill can do? The design elements clearly tells the functions of Swissmar Raclette Party Grill KF-77081 i.e. you can use the granite grill top for cooking meat, vegetables, seafood, etc. Meanwhile you can melt different cheeses simultaneously underneath in the raclette dishes. These dishes can be personalized for cooking as well. You can also use a single nonstick grilling tray of size similar to the granite stone and place it over the base to cook pancakes, crepes, etc. Another excellent feature is its variable heat control which provides proper heat control while cooking and grilling.
The 1200-watt this Swissmar Raclette Party Grill is enough to handle 6-8 people gathering. So this would be the perfect party cookware to enjoy instant hot grilling food. You can buy it from the Amazon online store at price of $139.95 with FREE Shipping.