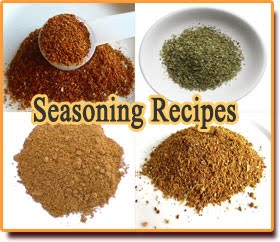 Here are some easy and quick seasoning recipes including Taco seasoning, Italian seasoning, Garam Masala and Chaat Masala. These seasonings are commonly used in various recipes to give traditional flavors for instance, in South Asian cuisine garam masala and chaat masala are frequently used which give excellent aroma and taste to the food, while other mentioned seasoning are respectively used in Italian and Mexican foods.
Taco Seasoning
Ingredients:
1 tbsp chili powder
1/4 tsp garlic powder
1/4 tsp onion powder
1/4 tsp crushed red pepper
1/4 tsp ground oregano
1 1/2 tsp ground cumin
1 tsp sea salt
1 tsp black pepper
Procedure:
Mix all the above ingredients together in a bowl and sift using strainer, in this way every ingredients incorporate with each other. Put the mixed spices of taco seasoning in an air tight bottle and preserve it for few months.
Italian Seasoning
Ingredients:
1 tbsp basil
1 tbsp marjoram
1 tbsp oregano
1 tbsp rosemary
1 tbsp thyme
Procedure:
Combine all the ingredients of Italian seasoning and fill in an air tight bottle to preserve it for use.
Hot mix spice (Garam Masala)
Ingredients:
25 gm cinnamon sticks
25 gm green cardamoms
10 gm black cardamoms
12 gm cloves
Procedure:
In a grinder grind all the above ingredients and make a fine powder. You can use it in various Indian and Pakistani recipes of meat, lentils and rice.

Chaat Masala
Ingredients:
1 tbsp cumin seeds
1 tbsp black pepper
5 cloves
3 pepper corns (optional)
1/4 tsp carum
1/4 tsp asafoetida
2 tbsp amchur powder (dry mango powder)
2 1/2 tbsp rock salt
1 tsp ginger powder
1/2 tsp tartaric acid
1 tsp red pepper (according to taste)
1 tsp normal salt
Procedure:
1. Roast cumin , carum, cloves and pepper corns fro just 1-2 mins until smell starts ti come. Don't roast strongly otherwise their color would turn into black in color.
2. In a grinder, ground all the ingredients including roasted spices and rest of the other so that a fine powder would form.