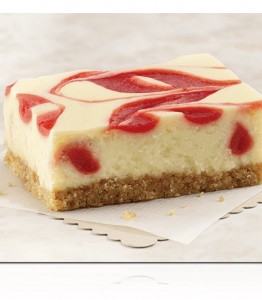 Preparation time: 40 mins. + 4-6 hrs. Refrigeration time | Serves 8-10 persons
This Strawberry Swirl Cheesecake is prepared with fresh strawberry sauce which is assembled with the cream cheese batter in such a way that it looks like a swirl texture. You can similarly prepare other flavors of swirl cheesecakes like mango swirl cheesecake, chocolate swirl cheesecake, etc.
Ingredients:
For Crust:
2 cup butter cookies (crushed)
4 tbsp butter (melted)
2 tbsp brown sugar
For Cream Cheese Filling:
2 cup cream cheese
2 cup whipping cream
2 tbsp gelatin (soak in warm water)
¾ cup icing sugar
For Strawberry Sauce:
2 lb fresh strawberries (head removed)
Icing sugar as required
1 tbsp lemon juice
1 tbsp cornflour
Procedure:
1. Process together brown sugar, cookies, and butter until becoming soft crumbs, and spread the mixture into the springform cake pan. Press the mixture tightly to make a uniform crust layer and then put it in the fridge for 15 mins. at least.
2. Meanwhile prepare the strawberry sauce. Blend the strawberries in the blender until gets smooth.
3. Cook the blended strawberries with icing sugar and lemon juice. When starts bubbling add cornflour (dissolve it in 1 tbsp water) and stir well to make it slightly thick. Remove the pan from heat and set aside.
4. To prepare cream cheese filling beat cream cheese in a large mixing bowl at high speed until gets fluffy.
3. Add icing sugar and beat at medium speed to mix thoroughly.
4. After that add whipping cream and beat until thick dense consistency is achieved.
5. Melt the soaked gelatin over the steam and then add it to the cream cheese batter and mix it well in the batter.
6. Now pour the batter over the prepared crust and then drizzle the strawberry sauce on it. Using a fork or knife slightly mix the sauce and cheese batter so that a marble-like texture would form. The best technique is to make lines with the fork at a few distances.
7. Place the pan in the fridge for 4-6 hours until it sets completely then serve.