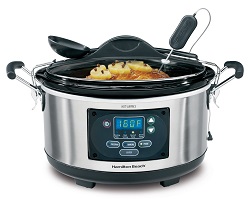 The slow cooker is one of the cooking appliances which are originated in the USA therefore; the major producers of slow cooking appliances belong to the USA and Hamilton Beach is among them. That is why we have selected Set 'n Forget® 6 Qt. Programmable Slow Cooker model by Hamilton Beach – the Best Slow Cooker Made in the USA. Let's have a detailed look at this amazing model of the slow cooker.
Design
The Set 'n Forget® 6 Qt. Programmable Slow Cooker is a heavy-duty slow cooker that weighs under 15 lbs. It has a removable 6-quart stoneware pot with a durable glass lid that is sufficient for cooking 6 lb. chicken or a 4 lb. roast. Hamilton Beach offers this slow cooker with a spoon and a temperature measuring probe which are hardly found in any of the Slow Cooker Made in the USA. The sturdy wire clips on the lid allow it to be used as portable cookware which you can also be carried away for picnic or family gatherings.
Features
Hamilton Beach has designed this programmable slow cooker with more versatility therefore, for the first time Hamilton Beach introduced three different cooking modes in a single model Set 'n Forget slow cooker model. These modes are – Program, Manual, and Probe.
Program Mode: This mode is used when the user has to go outside and doesn't have enough time for cooking. Using this mode user will have to set the time and heat level to either High or Low. As the food cooks, the display will start showing the remaining time and heat setting alternately and when this cycle will end, it will automatically switch to the Warm setting. So in this manner when you will return and feeling so hungry then your favorite food will be ready to eat.
Manual Mode: This mode is designed for simple old-day slow cooking i.e. after putting ingredients into the pot you just need to apply the heat settings – High or Low. When the food is ready, the cooker will turn OFF.
Probe Mode: This advanced mode is designed for cooking large cuts of meats like a roast. For implementing this mode, a probe is provided with the slow cooker which is inserted into the meat via a hole marked on the lid. While inserting the probe make sure that probe only touches the meat inside and doesn't touch the pot surface. When the probe mode is selected, it will show the heat setting and then the temperature, both of which you can adjust according to your requirement. For your convenience, a cooking chart is provided with this slow cooker to easily set appropriate cooking times for various foods.
What Comes in the Box?
The Set 'n Forget® 6 Qt. Programmable Slow Cooker comes with the following necessary items:
6-quart removable stoneware crock
Long handle clip-on spoon
Temperature probe
Clip-tight gasket lid
Where to Buy?
By considering all of the above features Set 'n Forget® 6 Qt. A programmable Slow Cooker would be the ultimate Slow-Cooker Made in the USA that comes with all the user needs. Therefore; if you are planning to buy this Hamilton Beach slow cooker at an affordable price then you will have to visit Amazon Online Store where it is available at an 8% discount rate with Free Shipping and standard packaging.