Chafing Dishes not only save your time in serving but also presents warm and fresh foods instantly. Due to the high prices of chafing dishes people don't prefer to buy them for home use. But now they are available at much more affordable prices at various online stores on sale. In this article, we bring you the most popular Chafing Dish For Sale
which would be very convenient for your home get-together.
Winware 8 Qt Stainless Steel Chafing Dish For Sale
Winware is a well-known manufacturer of producing quality chafers of different sizes. In this article we have selected two 8 Qt. Winware Chafing Dish one is a Full-size rectangular shape and the other is Roll Top chafer. The reason why they are selected is that these are highly-rated chafing dishes for sale and by using these chafers you have enough time to spend with your guests.
Full-Size Chafer: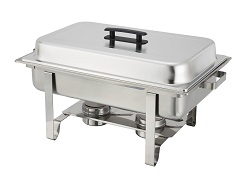 This Chafing dish is made of a nice stainless steel surface having a mirror-finished cover with a plastic handle. The dish comes with a single 2.5-inch deep food size pan, drip-less water pan, dome cover, and two fuel holders. The size is enough to handle large quantities of rice, noodles, meatballs, bbq stuff, etc. To keep food warm for many hours you need to fill a water pan up to 3-inch height and then you don't even need to add additional water. You can also use single fuel to reduce the amount of steam if you feel that your food is getting too hot. So you can nicely adjust this wonderful 8qt. stainless steel chafer according to your convenience.
Where to Buy?
The Winware 8 Qt. Stainless Steel Full-size Chafing Dish is available on sale at Amazon at an attractive discount rate of 67%.
Roll Top Chafer: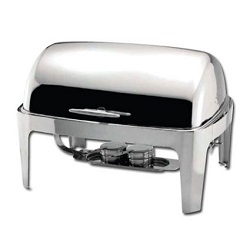 The 8 Qt. Roll Top Chafer from Winware is an elegant design heavy-duty chafing dish that is best suited for a formal large get-together. The body design is a full stainless steel material with mirror finished roll-top dome. This chafer also comes with a single 2.5-inch food pan, a drip-less water pan, and two fuel holders. The design of the roll-top lid is made with smooth and ergonomic so that a guest can easily carry the plate in one hand while self-serving.
Where to Buy?
This 8Qt. Roll Top Chafer is now available at the Amazon store at a wonderful exciting offer of a 51% discount rate which is under $200.
Winware Gold Accented Chafing Dish For Sale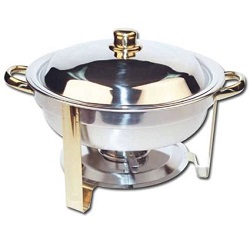 For those who always want to look for some good-looking, attractive serve ware for parties then this kind of Gold Accented Chafing Dish is a must-have item for them. It's a nice stainless steel body with mirror finished top whereas; its handles and legs are gold accented. It is a round-shaped chafing dish that again comes with a food pan, water pan, dome, and a single fuel. It would be the perfect choice for a patio or for outdoor buffet settings.
This 4qt. of optimum size, Gold Accented Round Chafing Dish is available for sale on Amazon at an amazing discount offer of 52%.
The Chafing Dish for Sale shown above is the most useful and nicely constructed chafer which can also be used as a cold server available so far. So don't waste time! buy your favorite one and get ready for your next buffet serving.