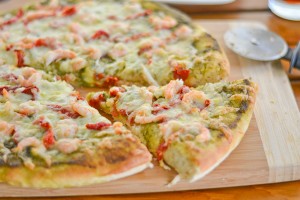 Preparation time: 30 mins. | Serves 4 persons
This Shrimp Pesto pizza is prepared with pesto sauce flavor instead of pizza sauce. The method is quite similar to the Pesto Shrimp Recipe, except you don't need to marinate shrimp in the sauce. Instead of that, you will have to make separate layers of sauce, cooked shrimp, and cheese.
Ingredient:
1 large pizza crust
For Pesto Sauce:
1 cup fresh basil leaves (chopped)
1 clove garlic
½ cup olive oil
¼ cup parmesan cheese
2 tbsp pine nuts
Salt and pepper to taste
For Topping:
½ cup small cooked shrimp
6 sun-dried tomatoes
2 cups grated mozzarella cheese
Procedure:
1. At first prepare pesto sauce, for that you need to process all the ingredients of pesto sauce in the blender except olive oil. When all the ingredients are coarsely chopped, then start adding oil in it until emulsified and smooth consistency is reached.
2. Soak sun-dried tomatoes in hot water for 10-15 mins. to make them a little soft, then drain and cut them into slices.
3. Take the pizza crust, spread the prepared pesto sauce on it, sprinkle half of the mozzarella cheese on the sauce, then alternately spread tomato slices and cooked shrimp and in the end cover the top with the remaining cheese.
4. Place the pizza in preheated oven at 425 degrees F for 12-15 mins. until crisp and golden from the edges. You may pour some oil at the edges while baking to make a good crispy pizza.
photo source : 1