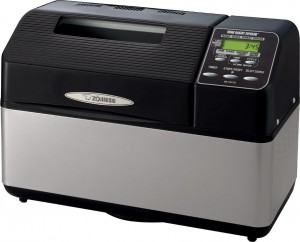 [asa]B002XVUAOU[/asa]
Zojirushi Bread Maker BB – CEC20 is among one of the powerful Home Bakery Supreme machines. It is designed with lots of useful functions that makes your life easier, through this Zojirushi Bread Maker you can easily bake variety of bread recipes along with some other items including homemade meatloaf, strawberry jam, chocolate cake, and more.
The Zojirushi Bread Maker BB – CEC20 consists of an ergonomic design parts including nonstick baking pan with double blade, control panel, large viewing window and LCD panel. The machine capacity of 2-lb bread to make within 2 hours (or depending upon the course time as mentioned in the manual). Lets have a look at its special functions; since this Zojirushi Bread Maker is a programmable one so various buttons are clearly shows their functions such as:
Crust Control : Gives you options of light, medium or dark crust for Basic, Quick, Cake and Home Made courses.
Timer : This button allows you to set time for making your bread including the delay timer of up to 13-hours with 10-minutes increment, so that you can have freshly baked dough in the morning.
Start/Reset : As it clearly defines its function that it will start the process of making your desired course and also by holding this button the process will be cancelled immediately.
Select Course : Now this is the button which has main concern as it gives you 10 different pre-programmed settings including: Basic, Basic Wheat, basic Dough, Quick, Quick Wheat, Quick Dough, Jam, Cake, Sourdough Starter and Homemade. All these courses have different time to bake as mentioned in the instruction manual.
The Zojirushi Bread Maker BB – CEC20 can be cleaned in a simple fashion, just remove the baking pan from the machine, then wash it with soapy water and dry it with soft cloth. It comes with some other helpful tools of double-ended teaspoon/tablespoon measuring spoon and an 8-ounce measuring cup so that you can easily measure ingredients and prepare perfect bread for your family, the spoons allows you to measure dry ingredients while cup is for liquids.
Zojirushi also provide additional recipes with the instruction manual so that you can easily find and try the recipe you want. Those who want to learn more about this Zojirushi Bread Maker then watch the video below to learn more about it.
If you are convinced with the performance of the machine then you could easily buy the Zojirushi Bread Maker BB – CEC20 from Amazon store at discount price of $229.95 with Free Super Saver Shipping.