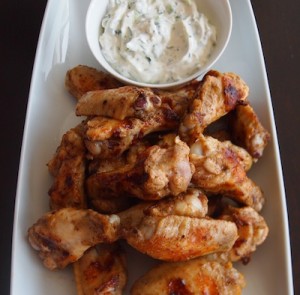 Preparation Time : 45 mins. | Serves 24 pieces
This baked chicken wings recipe is prepared in Mexican style as it has some spicy flavor. The main ingredient for chicken is taco seasoning while the dip is prepared with ranch dressing along with some more addition of green chilies. So on the whole these wings are very spicy but has great taste.
Ingredients:
1 cup ranch salad dressing
4.5 oz chopped green chiles
½ cup all-purpose flour
1 oz taco seasoning mix
2 tsp oil
24 chicken wings
Dried parsley flakes for topping
For Ranch Salad Dressing:
10 tbsp sour cream
10 tbsp mayonnaise
8 tbsp or ¼ cup buttermilk
1 ½ tsp fresh lemon juice
1 tbsp apple cider vinegar
1 tsp crushed garlic
1 tsp Worcestershire sauce
1 tsp finely chopped chives
1 tsp minced shallot or white onion
1 tsp Dijon-style prepared mustard
¼ tsp celery seeds
Procedure:
1. Preheat oven to 350°F.
2. To prepare ranch salad dressing combine all ingredients mentioned for dressing, then mix them well using whisk and refrigerate for an hour.
3. Prepare smooth paste of ranch salad dressing and chiles in blender and then refrigerate.
4. Now in a mixing bowl, combine flour and taco seasoning mix and mix well and then stir in oil to make smooth paste.
5. Now coat drum sticks with flour mixture and then place it onto the greased foil sheet spread over the baking sheet. Coat the remaining flour mixture on top of each wings on top.
6. Place the baking sheet in preheated oven and bake for 15 mins. then turn the wings and bake for other 15 mins. or until chicken is tender completely.
7. Then serve the spicy baked chicken wings with prepared dip.
photo source : 1