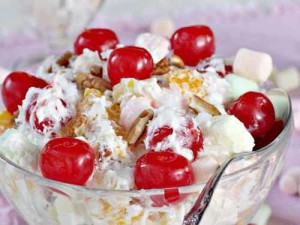 Preparation time : 10 mins. + 30 mins. Chill time | Serves 1 large bowl
This Ambrosia Fruit Salad Recipe is one of an easy creamy fruit salad prepared with some canned fruits. The main fruits of this salad are pineapple, mandarin orange and cherry; however, you can add other fruits also but don't add soft fruits like banana, papaya or mango.
Ingredients:
20 oz pineapple chunks (drained)
15 oz. mandarin orange segments (drained)
1 cup green seedless grapes
1 cup sweetened coconut flakes
1½ cup mini marshmallows
10 oz maraschino cherry (drained)
8 oz cool whip (thawed)
1 cup sour cream
¼ cup toasted pecans (chopped)
Procedure:
1. In a mixing bowl, combine sour cream and cool whip and mix well.
2. Add all the fruits and marshmallows to the cream mixture and fold the fruits well with cream.
3. Refrigerate the Ambrosia Fruit Salad for at least 30 mins. then server with topping of chopped pecans.
4. This is the Southern style ambrosia fruit salad.
photo source : 1