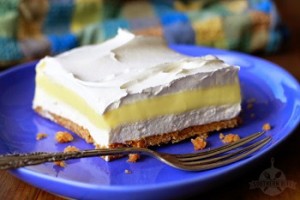 Preparation time: 30 mins. + 1 hr. Refrigeration time | Serves 8-10 persons
This is an Easy Lemon Icebox Pie Recipe, which takes only time to the refrigerant. This pie is prepared in a layered fashion; the layers consist of crust, cream cheese filling, condensed milk filling, and whipped cream topping. In the end, there would be a wonderful dessert, which you may hardly resist eating.
Ingredients:
For Crust:
1 cup graham cracker crumbs
½ cup butter (melted)
½ cup sugar
For Filling:
8 oz cream cheese (softened)
1½ cups powdered sugar
16 oz frozen whipped topping (thawed)
14 oz sweetened condensed milk
2 egg yolks
1 cup lemon juice
Procedure:
1. To make this easy lemon icebox pie recipe, first prepare the crust by using crust ingredients. In a food processor process together graham cracker crumbs, butter, and sugar. Just give a few pulses to make soft crumbs like a mixture.
2. Transfer this mixture into the deep and wide glass dish of 9×13-inch size. Press the mixture tightly to make an even crust at the base and sides.
3. Bake in preheated oven at 350 degrees F for 10-12 mins. until a bubbling sound comes.
4. Meanwhile in a mixing bowl, cream together cream cheese, 8 oz whipped cream, and sugar and make a light fluffy batter.
5. When the crust is ready, cool it to room temperature and then spread the cream cheese batter onto the crust. Refrigerate for 10 mins. to set.
6. Now, in another bowl, beat condensed milk lemon juice, and egg yolks until well blended.
7. Pour this batter onto the cream cheese batter and refrigerate for at least an hour.
8. When the lemon icebox pie sets nicely, spread the remaining whipped cream on top and serve after chilling it for 15 mins.