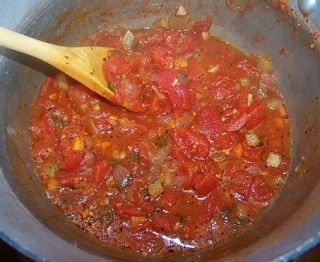 Preparation time : 40 mins.
This Italian tomato sauce recipe is one of a kind of pasta sauce which is mostly served with noodles, spaghetti and casserole. This sauce can also be used in place of pizza sauce for making pizza. Though use of canned tomatoes in this recipe reduce its cooking time but its good taste develops only when fresh tomatoes are used.
Ingredients:
3 tbsp olive oil
2 cup onions (chopped)
1 medium bell pepper (diced)
2 tsp basil
1 tsp oregano
1 tsp thyme
Salt to taste
1 kg tomatoes (chopped)
3/4 cup tomato paste
1 tbsp honey
black pepper to taste
6 garlic cloves (minced)
Procedure:
1. In a deep sauce pan heat oil, it is better to use dutch oven as the taste of this Italian tomato sauce cooks mostly by simmer process so that all the flavors when cook slowly with tomatoes yield good taste.
2. Now add onion, garlic, bell pepper, basil, oregano, thyme and salt and saute for 10 mins. make sure that onions would not get brown.
3. After that add tomatoes, tomato paste, honey, black pepper and 1 cup water and let it boil on medium heat.
5. When sauce starts bubbling reduce the heat to very low and simmer for 30 mins.
6. When the sauce gets thick remove the pan from heat and then serve it with any kind of pasta.
photo source : 1