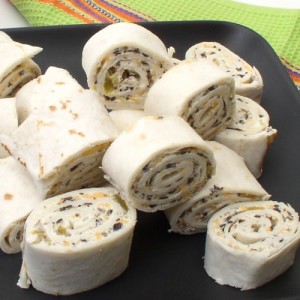 Preparation time : 10 min. | Serves 20 tortillas
These tortilla roll ups are filled with cream cheese and sour cream filling with flavor of salsa which makes these roll-ups delicious. Use of spicy Mexican red salsa makes these rolls more tasty and looks attractive.
Ingredients:
6 large flour tortillas
8 oz cream cheese (softened)
8 oz sour cream
8 green onions (chopped)
16 oz salsa (of any kind)
Procedure:
1. To prepare filling mix cream cheese, sour cream, spring onions and salsa in a mixing bowl.
2. Spread this filling over each tortilla. Roll them tightly and refrigerate for overnight.
3. Serve the tortilla roll ups by cutting into slices with ketchup or any other dip of your choice.
photo source : 1