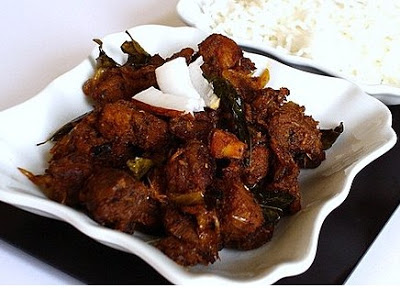 Preparation time : 35 mins | Serves 6 persons
This is original Kerala style fry beef recipe from Indian cuisine. The beef at first is cooked with spices in pressure cooker and then cook in pan with onion tomato gravy, so the beef would be very soft and have great smell due to fennel and roasted mustard seeds. You can also sprinkle some lemon juice on top while serving, it would really enhance its flavor. To know more Kerala recipes, refer to the book Cooking: A Distinctive Cuisine from India's Spice Coast, which contains nearly all kinds of kerala cooking recipes including rice, vegetables, fish, meat, lentils, snacks, and desserts.

Ingredients :
1 kg boneless beef (cut into small pieces)
2 medium size onions (sliced)
8 green chilies
2 tbsp ginger (chopped)
2 tsp coriander powder
6 cloves garlic (chopped)
2 tomatoes (chopped)
1 Cinnamon stick
5 Cloves
5 Cardamom
4 tsp fennel seeds
20 black peppercorns
1/2 tsp turmeric powder
1/2 tsp red chili powder
1 tsp mustard seeds
3-4 curry leaves


Procedure :
1.Marinate beef with, green chilies, ginger garlic, turmeric powder, salt and red chili powder.
2.In a grinder, make smooth powder of cinnamon, cardamoms, cloves, black peppercorns and fennel seeds.
3.After that put the marinated beef in good quality pressure cooker so that it could cook readily and become soft, add the above ground spice mixture with water and let it cook for 15 mins.
4.Now heat oil in a pan, roast mustard seeds and fry chopped onions, when the onion becomes soft and pink add curry leaves till become light brown.
5.Now add the cooked beef and tomato in the onions and cook till gravy becomes.