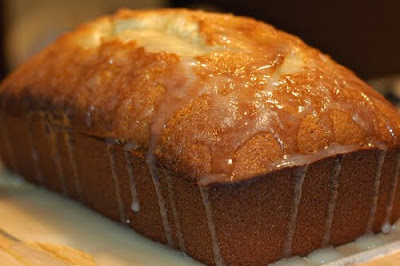 Preparation time : 70-80 mins | Serves 8 persons
This
lemon bread
recipe is almost same as other fruit bread recipes except lemon juice and zest are used in place of fruits. Simple lemon icing is done at the top of bread to give it some more sweet flavor. To become a baking expert and prepare delicious homemade breads, refer to the book
Artisan Bread in Five Minutes a Day
which contains almost 100 recipes of different breads.
Ingredients:
1 1/2 cups flour
1 tsp baking powder
1/2 tsp salt
6 tbsp shortening
1 1/3 cups sugar
2 eggs (beaten)
1 tbsp lemon zest
1/2 cup milk
3 tbsp lemon juice

Procedure:
1. In a mixing bowl, sift together the flour, baking powder, and salt.
2. In another bowl, beat half of sugar and shortening using electric beater for 3-4 mins until a creamy batter would form.
3. After that add the eggs and lemon zest and beat again for 2-3 mins.
4. Gradually add flour mixture and milk to the batter and mix using rubber spatula.
5. Pour the batter into a greased baking pan and bake at 350 F for one hour. You can check it by inserting a tooth pick if it comes out clean then the bread is ready to take out from oven.
6. To prepare glaze for the bread dissolve the remaining sugar in the lemon juice and drizzle it over the warm bread and then cool it to room temperature.