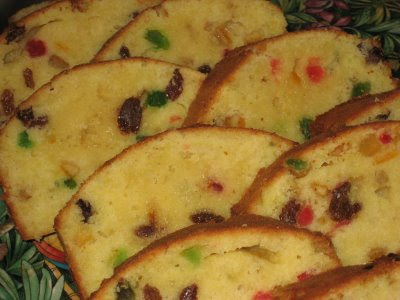 Preparation time : 45 mins | Serves 3 loves
This
fruit loaf
is prepared with different fruits including, candied fruits, bananas and dry fruits which make it a healthy snack item. Learn best cobbler recipes available in the book
The Cobbler Crusade
which guides you how to make cobbler from scratch.
Ingredients:
2 eggs
2/3 cup sugar
1 cup mashed bananas
1 3/4 cups all-purpose flour
3 teaspoons baking powder
1/2 teaspoon salt
1 cup mixed candied fruit
1/2 cup raisins
1/2 cup chopped walnuts
Procedure:
1. Take a bowl of dough mixer and beat eggs and sugar together to make a smooth fluffy batter. It would take 4-5 mins.
2. After that add mashed bananas to mix in the batter.
3. Mix dry ingredients including flour, baking powder and salt in a separate bowl.
4. Gradually add dry mixture, candied fruit, raisins and walnuts to the batter and mix at low speed so that no lumps should remain and thick smooth batter would form.
5. Take a loaf pan of suitable size and grease it. Place a piece batter in the pan according to pan size and bake at 350 degrees F for 30-35 minutes until it becomes light brown in color.