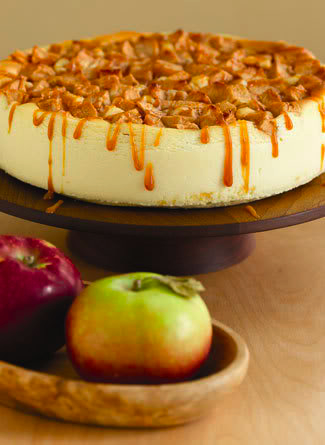 Preparation time : 30 mins. + 3 hrs. Chill time | Serves 12-16 persons
This apple cheesecake is prepared with apple juice instead of using apple chunks and the method is entirely different from other cheesecake recipes. In this recipe filling is cooked first with juice and egg yolks to make custard like batter then it is mixed with other ingredients.
Ingredients:
2 tbsp gelatin
1-3/4 cups apple juice
1/2 cup sugar
3 egg yolks
8 oz cream cheese (softened)
1/2 tsp cinnamon powder
1/4 tsp nutmeg powder
1 cup whipped cream
Topping:
1/2 cup peanuts (crushed)
2 tbsp butter
1 cup applesauce
1/3 cup packed brown sugar
Procedure:
1. Mix gelatin in ¼ cup of water and then put on boiled water so that gelatin dissolves completely in water on steam.
2. Now prepare batter for cheesecake for that you need to cook apple juice and sugar until it boils.
3. Then remove the pan from heat and cool to room temperature. After that mix egg yolks into the apple sauce and whisk gently and then cook on low heat.
4. Stir continuously while cooking so that lumps would not form, when the mixture gets thick remove the pan from heat and cool to room temperature.
5. Now in a large mixing bowl combine all the ingredients mentioned for cheesecake batter including cream cheese, whipped cream, cinnamon, nutmeg, gelatin and prepared egg yolk mixture, mix until the batter become uniform.
6. Pour the batter into the spring form pan and place in fridge to chill for 2-3 hrs.
7. Meanwhile prepare topping for cake, for that you first need to prepare praline, it is prepare by melting 1 cup sugar in ¼ cup water.
8. When the caramel becomes brown in color add crushed peanuts in it and remove from heat spread this mixture onto the platter and let it set. When it becomes hard crush it using hands or in grinder, this is your praline.
9. Now in a sauce pan mix apple sauce, brown sugar and butter and cook until it boils.
10. Pour this sauce over the chilled cheesecake and top with praline.
photo source : 1