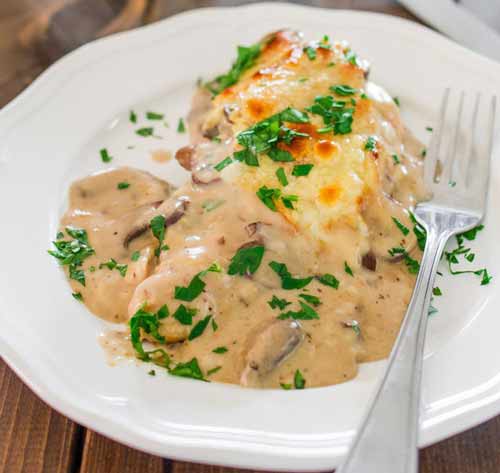 This Chicken Gloria Recipe is bit a different chicken casserole prepared with mushroom flavor in addition with chicken. This casserole is best to serve with rice or pasta as it has some extra cheesy sauce left after baking.
Ingredients:
3 skinless boneless chicken breasts
2 tbsp white vinegar
Salt and pepper to taste
5 tbsp flour
3 tbsp vegetable oil
2 tbsp butter
8 oz fresh mushrooms (sliced)
½ cup apple cider
10 oz condensed cream of mushroom soup
½ cup whole milk (optional)
6 slices of Muenster cheese
3 tbsp fresh parsley (chopped)
Procedure:
1. Cut chicken breast into halves and then slice each half into two pieces horizontally.
2. Marinate chicken slices with vinegar, salt and pepper and leave for 10 mins.
3. Then dust chicken slices with flour and then shake to remove excess flour.
4. Heat oil in a frying pan, and fry chicken slices over medium-high heat until become golden brown from both sides.
5. In the same pan, heat butter and fry mushroom slices in it with seasoning of salt and pepper.
6. When the mushrooms become golden brown, add apple cider and cook for 1-2 mins. more then add cream of mushroom soup and milk and mix well. If you are not using condensed cream of mushroom soup then don't need to add milk.
7. When the mushroom sauce becomes smooth, remove the pan from heat and set aside.
8. Now take a deep casserole dish, line the bottom of dish with cooked chicken pieces, then pour the prepared mushroom sauce and then top with cheese slices.
9. Bake in preheated oven at 350 degrees F for 30 mins. or until become golden brown and bubbly from top.
10. Then cool the casserole dish for 15 mins. then serve with garnishing of fresh parsley.
photo source : 1