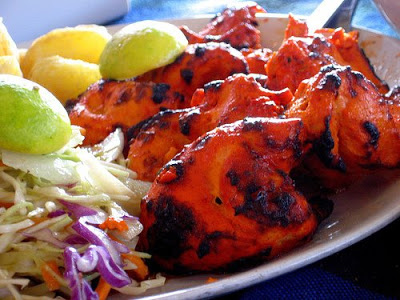 Preparation time : 30mins + 1hr marination time Serves 4 persons
Cooking bbq chicken slightly vary in different cuisines. South Asian bbq recipes are the most popular ones in which chicken bbq marinades in mixture of spices . One can adjust spices according to their taste. Here Chicken Tikka recipe is shared with you which can also be served in variety of ways for instance in chicken tikka roll, chicken tikka pizza and alone as well.

Ingredients:
4 large chicken pieces (take a chicken and make its four equal pieces)
1 tbspn ginger paste
1 tsbpn garlic paste
1 tbspn red chili powder (or as you required)
1 tspn turmeric powder
Salt to taste
3 tbspn lemon juice
500 gm yogurt
1 tbspn mix spices powder
1 tspn nutmeg and mace powder
50 gm saffron (optional)
Procedure:
1. In a bowl, mix all the spices with yogurt.
2. Make angular cuts on each piece so that spices can absorb in it.
3. Marinate chicken pieces in the mixture and leave the marinated chicken pieces for 1 hour so that all spices are absorbed in the chicken.
4. Put the chicken pieces in the baking tray and bake them at 180oC for 25-30mins or until turn into light brown in color. You can also bbq the chicken pieces, its smell and tastes become more wonderful.
Servings:
Serve the delicious BBQ chicken tikka pieces with naan / bread , onions and lemon salad or with cole slaw .