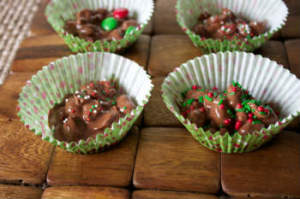 Preparation time: 2 hrs. and 30 mins. | Serves over 100 candies
This Crockpot Chocolate Candy recipe is unique and different from other candies. The batter of these candies is prepared in a crockpot, hence why they are named so. You can store these candies for weeks.
Ingredients:
6 cup dry salted caramel peanuts
2 lb almond bark
1 ¾ cup semisweet chocolate chips
4 oz Baker's German chocolate bar
Colorful sugar sprinkles for garnishing
Procedure:
1. In a crackpot, spread roasted peanuts at the base then make layers of almond bark, chocolate chips, and a chocolate bar.
2. Cover the pot and cook for 60 mins. at low settings.
3. After that stir the mixture and cook for 60 mins. more but stirring after every 15 mins.
4. Now line the baking tray with the cupcake liners and start putting 1-2 tbsp of prepared peanut batter into each of the liners. Garnish the sugar sprinkles on top of each candy.
5. After 30 minutes, when the candies are set and firm transfer them onto the serving platter or store them in an airtight box.