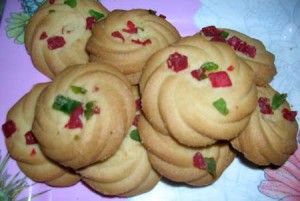 Preparation time : 20 mins. | Serves 4 dozen
These fruit cookies are prepared with candied fruits and nuts, chocolate can also be used in these cookies to make them more attractive. Amount of nuts and candied fruits can be varried according to the required taste.
Ingredients:
150 gm all-purpose flour
½ tsp salt
115 gm butter
1 tsp baking soda
½ tsp cinnamon
150 gm sugar
2 eggs
1 tsp vanilla extract
1 cup candied fruit
1 cup raisins (optional)
½ cup chopped nuts (optional)
Procedure:
1. Preheat oven to 375F.
2. In a mixing bowl beat butter and sugar until become creamy in texture.
3. Add eggs one by one and beat after each addition.
4. Mix dry ingredients together including flour, baking soda, cinnamon and salt.
5. Slowly add flour mixture and vanilla extract to the butter mixture and only with wooden spoon until become sticky dough.
6. Now add candied fruits, raisins and chopped nuts to the dough and mix evenly.
7. Take a greased baking try and drop 1 tbspn of sticky dough at every 2 in. distance.
8. Place the cookie tray in preheated oven for 12-15 mins until become light brown in color.
photo source : 1