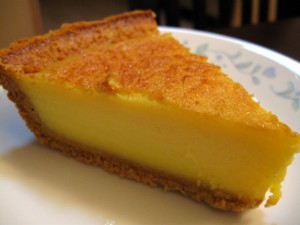 Preparation time : 50 min + Chill time | Serves 8 persons
This egg custard pie recipe is prepared with vanilla and almond flavors combined with eggs and condensed milk. You may also add powdered almonds for getting strong flavor for almonds but in order to dominate the egg flavor, it is better to use only extract. You may also replace the stuffing with plain egg pudding batter.
Ingredients:
Unbaked 9-inch pie shell
3 eggs
14 oz sweetened condensed milk
1¼ cup hot water
½ tsp vanilla extract
½ tsp almond extract
¼ tsp salt
¼ tsp ground nutmeg

Procedure:
1. Preheat oven to 425 degrees F.
2. At first bake pie shell alone for 8 min.
3. In a mixing bowl beat eggs, and then add rest of the ingredients including sweetened condensed milk, water, almond and vanilla extracts, and salt. Mix well all of the ingredients to make smooth batter.
4. Pour this batter over the baked pie shell make sure that pie shell is cool. Bake it in preheated oven for 10 min then reduce the temperature to 350 degrees F and bake for further 30 min until knife inserted comes out clean.
5. After that take it out from oven and chill for 15-30 min before serving.
photo source : 1