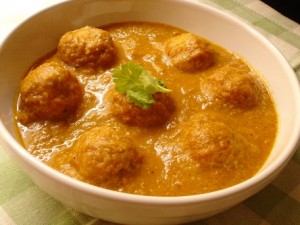 Preparation time : 30 min. | Serves 6 persons
This malai kofta recipe is from South Asian cuisine and can be serves as one of Eid party recipes. In this kofta recipe no more meat is used the balls are prepared with cottage cheese, also the gravy is prepared with simple and easy method hence this recipe can be prepared in very short time for dinner.
Ingredients:
For Kofta:
2 ½ cup cottage cheese (grated)
4 tbsp roasted gram flour
3-4 ground cashew
4 green chilies (chopped)
2 tbsp chopped fresh coriander
½ tbsp ground cumin
Oil for shallow frying
2 tbsp lemon juice
Salt to taste
For Gravy:
3 tsp vegetable oil
½ tbsp ginger garlic paste
½ tsp red chili powder
1 tsp turmeric powder
2 tsp coriander powder
2 green chili
2 cup milk
1 onion (finely chopped)
2 tomatoes (chopped)
Salt to taste
Procedure:
1. In a mixing bowl, knead cheese until become smooth so that soft dough would form.
1. Add ginger garlic paste, cashew, green chilies (chopped), fresh coriander, cumin and lemon juice and mix well.
2. Make small balls of lemon size and roll them in graham flour.
3. Heat oil in frying pan for shallow frying and then fry them in batches until become golden brown in color.
4. Now prepare gravy, for that sauté onion in a wok for 2-3 min.
5. Then add turmeric powder, coriander powder, red chili, green chilies, tomatoes and salt and simmer for 5 min. until tomatoes become soft.
6. After that add milk and let the gravy to boil on medium heat.
7. When oil starts to appear on the gravy and it gets thick then add the fried kofta to the gravy and simmer for 5 min more.
8. Remove the pan from heat and serve the delicious malai kofta chapati.
photo source : 1