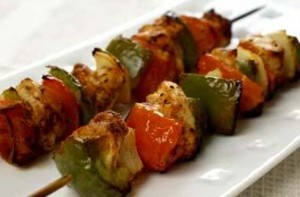 Preparation time : 15 min. + 30 min. Marinating time | Serves 6 persons
This shashlik recipe is from Indo-Chinese cuisine and is prepared with chicken and veggies. In this recipe shashlik is cooked via cooking method otherwise it is usually cook on grill and served on sizzling dish to enjoy full grilling flavor.
Ingredients:
500 gm boneless chicken (cut in cubes)
2 capsicum (cut in cubes)
2 medium onions (cut in cubes)
2 medium tomatoes (seeded and cut in cubes)
¼ cup lemon juice
Salt to taste
½ tsp crushed red chili
1 tsp black pepper
1 tbsp soya sauce
1 tbsp hot sauce
oil for shallow frying
Procedure:
1. Marinate chicken in lemon juice, soy sauce, salt, black pepper, hot sauce and red chili for 30 min.
2. After that add vegetables to the marinated chicken and mix well.
3. Now take bamboo skewers and skew chicken and vegetable pieces alternately.
4. When all the chicken and veggies skewed in the skewers, take a sauce pan and heat oil for shallow frying.
5. Place skewers in the pan and cook on medium heat for 8-10 min until become golden brown from every side.
6. Serve the shashlik in beautiful serving platter with Manchurian sauce and fried rice.
photo source : 1