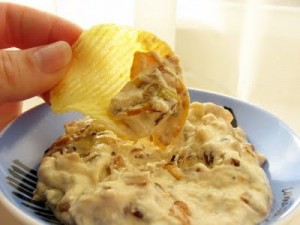 Preparation time : 10 min. + Chill time | Serves 1 bowl
This recipe for onion dip is one of a famous French style dip. This is actually a caramelized onion dip which is prepared with fried onions. You may also give it some colorful touch by adding green onions or finely grated carrots, etc. It gives good taste when serve with garlic bread or any toasted bread.
Ingredients:
2 onion (sliced)
oil for deep frying
½ cup mayonnaise
¼ cup sour cream
2 tbsp cream
salt to taste
1 tsp black pepper (freshly crushed)
Procedure:
1. Deep fry the onions till become crispy golden brown.
2. Drain onions from oil and let it cool.
3. In a mixing bowl combine mayonnaise, cream, sour cream, salt, pepper and
crushed brown onions.
4. Chill it in fridge and then serve with garlic bread.
photo source : 1