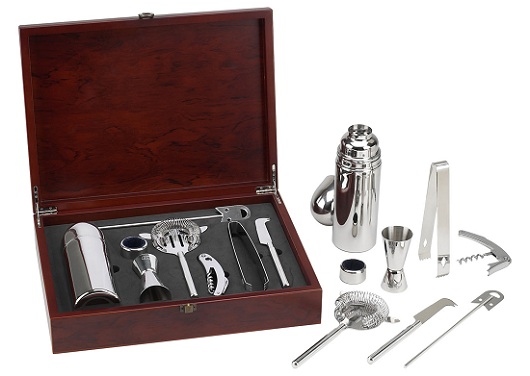 [asa]B001AZSHZY[/asa]
Lest week we posted a review on cocktail shaker and today it's a complete Cocktail bar set containing all the necessary pieces that are needed to make a perfect drink of your own set of ingredients. It is a product by Picnic at Ascot. Continue reading below to learn more about this cocktail maker set.
This Cocktail bar set consists of the following pieces
1 Shaker, stainless steel
1 Jigger, stainless steel
1 Strainer, stainless steel
1 Stir Stick, stainless steel
1 Bottle Stopper, stainless steel
1 Ice Tong, stainless steel
1 Corkscrew, stainless steel
1 Utility Knife, stainless steel
1 Drip ring
1 Storage wooden box
All the pieces are made of very fine quality 18/10 stainless steel. An elegant looking wooden box stores all the cocktail set pieces when they are not to be used. The wooden box also doubles as a gift box and will turn about to be a very pleasant gift for your loved ones who prefer to make their own cocktail at home.
The Manhattan cocktail set is a professional and commercial quality Cocktail bar set as it is meant to last for years of use. The entire weight of this cocktail set is 6 lbs and it measures 11×14.5×3.25 inches. All the cocktail pieces are dishwasher safe and can easily be washed by hands. Due to the stainless steel material, you are rest assured that your set will never catch rust neither it will ever corrode.
You can easily buy this Cocktail bar Set from Amazon (with FAST shipping) at a special 15% discount price.