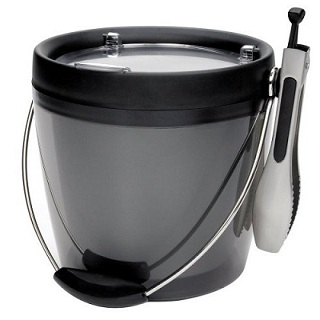 [asa]B001CDHSY0[/asa]
Whether you invited your friends to your home for a party or you are in the outdoors, having drinks that are not chilled will never turn out to be pleasant for your guests. An ice bucket is often used to fill this gap. The one shown above is a set of ice bucket with tongs by Oxo. Due to its simple design and ease in usage, it is rated as the top ice bucket tong set. Continue reading below to learn more about it.
Unlike other bulky and heavy ice buckets, the Oxo ice bucket is made of plastic and has a double wall construction for providing insulation. So when you completely fill it with ice, it does not get too heavy to carry. It has 4-quart ice cubes capacity which is plenty of space for strong ice cubes for many guests. Inside this plastic ice bucket, there is a moat which keeps the ice water separated from ice cubes. This feature is not present in many expensive and bulky ice buckets.

Both the ice bucket handle and the ice tong have very soft grips which makes grabbing, lifting and carrying very convenient. The ice tong has sharp teeth which makes gripping of ice cubes even more convenient. The ice tongs also have a locking switch so if you are not using the tong you can safely rest it by locking it with the ice bucket as shown in the picture above. The Oxo ice bucket with tongs set also have a top covering lid on its bucket for added insulation. The ice bucket itself measures 8.5 x 8.5 x 8.2 inches.
You can easily buy this Oxo Ice bucket with tongs set from Amazon (with FREE shipping) at a special 10% discount price. You can also browse the list of other best selling ice bucket with tong sets. The list is updated every hour.