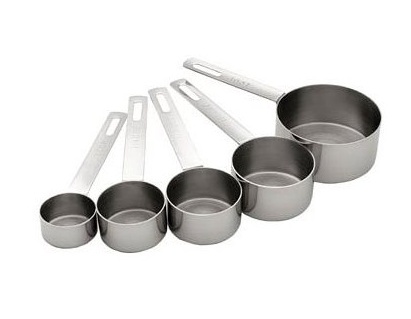 [asa]B0009VEOFW[/asa]
Today we decided to post a review on a very basic yet very important baking tool set, measurement cups. The ones we selected for today's review are stainless steel measuring cups by MIU. It is a 5 piece measuring cup set. Continue reading below to learn more about this product.

These stainless steel measuring cups will measure 5 different sizes i.e.
1/8 cup
1/4 cup
1/3 cup
1/2 cup
1 cup
These are essential when measuring precise and accurate quantities of ingredients such as in baking. These measuring cups are made of 18/10 stainless steel which is one of the finest grades of metals used for making all kinds of cooking tools and utensils. Unlike other plastic and low quality measuring cup sets, these stainless steel measuring cups are extremely durable and offer more strength because of their heavy weight and rigid construction.
These measurement cups have straight walls so you will not be getting those conical shaped cups that take some extra seconds to clean. Due to the stainless steel construction, these measuring cups will never catch rust neither they will ever corrode. Each measurement cup has a handle with a hole in it which is for hanging the individual cups or for tying all the 5 stainless steel measuring cups together for storage.
All the measuring cups are dishwasher safe and come with a limited lifetime warranty.
You can easily buy these Stainless Steel Measuring Cups from Amazon (with FREE shipping) at a special 30% discount price plus a bonus promotional offer which might end anytime. You can also browse the list of other best selling measuring tools. The list is updated every hour.