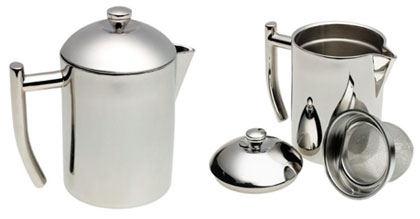 [asa]B00009ADDW[/asa]
Today is yet another tea making product, Frieling tea maker with a fine quality infuser basket. This tea maker doubles as a tea maker and a serving pitcher which makes it ideal for tea time. The product is made of very fine quality stainless steel which adds to the elegant appearance of this tea maker. Continue reading below to learn more about this tea making pitcher.
As already mentioned above, this tea maker is made of stainless steel. The exterior has a mirror finish while the interior has brushed metal finish. This stainless steel tea maker has a removable infuser basket for placing tea leaves. The basket can be removed when the tea is about to be served. The top lid keeps the tea maker covered all the time.
This stainless steel tea maker pitcher has double wall construction which means that tea will stay warm for long. As compared to other glass and single walled tea makers, this insulated tea pitcher is preferred. The tea maker pitcher itself measures 7.3 x 6.3 x 4.2 inches and weighs 3 lbs. It will make 23 ounces of tea or three average size cups. It can also be used for serving other drinks either hot or cold as the insulated walls will do the best in containing the temperature of the liquid inside.
Because of the stainless steel construction, this tea maker is very easy to clean and will never catch rust not corrode. All the parts including the lid and infuser basket are dishwasher safe and can also be washed by hands.
You can easily buy this Frieling Tea maker from Amazon (with FREE shipping) at a special 15% discount price.