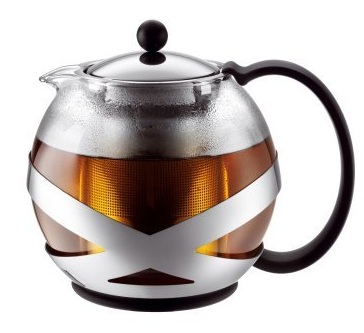 [asa]B001KW013I[/asa]
After reviewing several type of coffee press we finally convinced ourselves to post a review on Bodum tea press. Similar to the way French press pots work, this medium size tea press pot is ideal for making tea of your desired strength. Made of stainless steel, glass and plastic, this is a very durable and elegant looking tea press pot. Continue reading below to learn about this tea press pot.
This is a medium size tea press pot which will make 1.0 L or 34 ounces of tea which equals 4 cups. The tea press itself measures 6.5 x 6.5 x 6.2 inches and weighs 2.1 lbs. It has a very durable stainless steel infuser. The best part about this tea press is that you select the strength of tea you want to make. This is done by allowing the tea to reach its desired color and then slowing depressing the plunger. Unlike French coffee press, the tea will not become bitter and will stay in the pot for as long as you want.
This tea press pot works great with all kinds of tea leaves. Just add leaves in the infuser, add some boiling water and keep pressing the plunger until the tea reaches your desired strength. Making tea with this Bodum tea press pot is very simple. The glass pot is heat-resistant; the handle is made of stay-cool plastic while the external frame is made of elegant looking stainless steel. All the parts are dishwasher safe including the infuser filter.
You can easily buy this Bodum Tea Press Pot from Amazon (with FREE shipping) at a special 30% discount price which might jump back to normal at anytime.