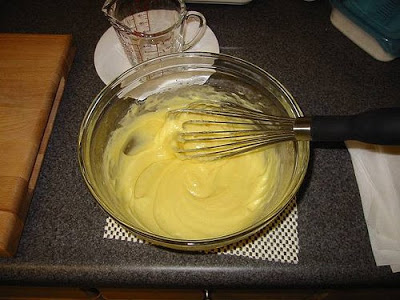 Preparation time : 15 mins
Most people prefer to buy mayonnaise from store rather than making it at home, but I prefer to make it at home as its very easy to prepare and economical too. Mayonnaise is prepared in different ways. Some make it with whole egg while others only use egg whites and same is the case in this mayonnaise recipe . You can make either type but the method remains the same. By using this mayo you can easily prepare different flavors of mayo like mayo garlic is prepared by adding just garlic powder to it.

Ingredients:
1 egg yolk
1 tspn mustard paste
1 cup oil
Pinch of salt
Pinch of sugar
1 tbspn vinegar

Procedure:
1. Beat egg yolk and mustard paste to make a smooth paste.
2. Slowly add oil in it and blend the mixture in the blender.
3. Now put some seasoning in it; salt and sugar, vinegar and white pepper if you want. Mayonnaise is ready.

Servings:
Mayonnaise can be used in making different dip sauce of salads like macaroni salad and seven layer salad or in chicken spread sandwich.