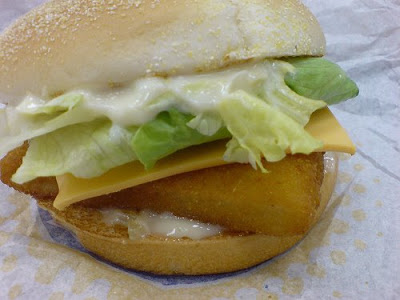 Preparation time 30 mins | Serves 5 persons
Although people generally like to eat chicken or beef burger but fish burger have the same flavor and taste. of course fish is more healthy for every age people and there are health benefits of having fish as food.

Ingredients:


5 pieces of fish fillet (boneless)
2 tbspn mustard paste
2 tbspn lemon juice
1 tspn black pepper
1 tspn chili sauce
Salt as required

2) For Fish Frying:


½ cup Plain flour
½ cup Corn flour
1 tspn Black pepper
Salt as required
Oil for deep frying

3) For Dressing:


3 tbspn mayonnaise
1 tbspn chili sauce (optional)
½ tspn black pepper
1 tspn lemon juice
Salt to taste
2 tbspn ketchup
2 tbspn chopped capsicum

1. Marinate fish in the above shown ingredients for marination.
2. Mix plain flour, corn flour, salt and pepper and make smooth paste using water or egg make sure the batter is not so thin and not so thick.
3. Dip marinated fish in this batter and deep fry the fish pieces on medium until they become light golden in color. It takes approx. 8-10mins on medium heat. Oil should always be preheated well for deep frying.
4. Mix well all the ingredients of dressing.
5. Take the round shape buns and cut them from the middle and put them in oven just for 3-4mins.
6. Coat each piece with the mayonnaise dressing, place salad leaf on one side of burger and put fried fish piece over it and cover with other piece of burger. You can also put slice of cheese inside the burger.

Servings:


Fish Burger is ready to serve with fries.