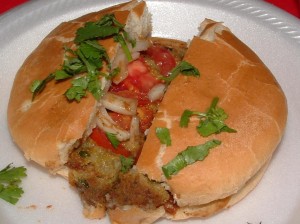 Preparation time : 20 mins. (excluding kabab preparation time)
This bun kabab recipe is one of a famous street food in Pakistani cuisine, it is prepared either with beef kebab or lentil kebab. Here in this recipe shami kebab is used to prepare bun kabab, these are little bit spicy than other burgers but tastes awesome.
Ingredients:
For Kabab:
½ kg boneless beef cubes
325 gms large yellow lentils
8-10 whole dry red chilies
1 tbsp whole coriander seeds
1 tbsp cumin seeds
8-10 black pepper cloves
1 cinnamon stick
4-6 cloves
2 black cardamoms
4 green cardamoms
2 tbsp crushed ginger
Salt to taste
1 tsp cumin powder
1 tsp black pepper powder
1 tbsp hot mix spice powder (garam masala)
½ cup fresh mint (chopped)
½ cup fresh coriander leaves (chopped)
4-5 green chilies (chopped)
1 large onion (finely chopped)
1 large egg (beaten)
Oil for shallow frying
For Assembling:
Buns as required
Tomato slices
Thinly sliced onions
1 cup yogurt
½ cup coriander leaves (chopped)
½ cup mint leaves (chopped)
3-4 green chilies (chopped)
Salt to taste
1 tsp cumin
Oil for shallow frying
Procedure:
1. To prepare shami kabab follow the recipe given here.
2. Now take a piece of bun cut it from center horizontally and toast with few drops of oil.
3. Then make chutney by blending together coriander, mint, green chilies, cumin and salt and then mix the mixture in yogurt.
4. After that spread inside each piece of toasted bun with 1 tbsp of prepared chutney.
5. Place tomato slices on one piece, put fried shami kabab, layer sliced onions and then cover with the top piece of bun.
6. Now over the hot skillet toast the bun for just a minute from both sides and then serve after cutting into two pieces.
photo source : 1