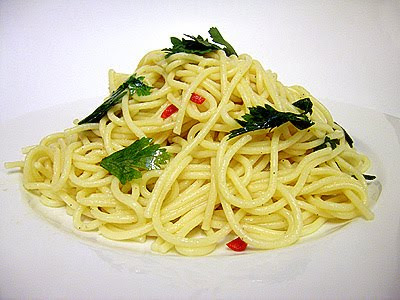 Preparation time : 20 mins | Serves 4 persons
This spaghetti recipe is one of the easy snack to prepare at home. It is usually difficult to prepare delicious spaghetti with little ingredients but this recipe of spaghetti i have tried is great, the mild chili flavor when combines with chicken powder it becomes awesome. So do try this easiest spaghetti recipe at home.
Ingredients:
250 gm spaghetti
3 red chilies (or as required)
2 garlic cloves 4 oz butter
Salt to taste
1 tsp chicken powder
Parsley chopped as required
Parmesan cheese as required
Procedure:
1. Cut chilies into halves and take out seeds from the center and then chop into fine pieces.
2. Boil spaghetti with salt and cool to room temperature.
3. Now combine spaghetti, chili, parsley , chicken powder, salt and pepper and toss them together.
4. Take out the spaghetti in a oven proof serving dish and sprinkle Parmesan cheese on top, and bake for just 2 mins in preheated oven to moderate temperature so that cheese would melt, then serve after cool it to room temperature.