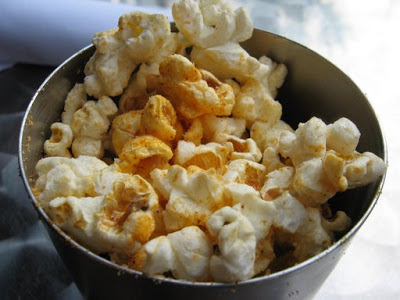 Preparation time : 5 mins | Serves 4 persons
Pop corns are available with ready made flavors like buttered, cheese, salty, spicy, etc. This is an homemade bbq flavor for simple popcorn which hardly found in any ready made packs, the ingredients are easily available and you can make it at home in no time. For more popcorn recipes, refer to the book Popcorn, which contains over 50 low-fat, sweet as well as spicy popcorn recipes.
Ingredients:
2 tspn dried parsley flakes
2 tspn paprika
1/2 tspn hickory smoke salt
1/2 tspn onion powder
1/4 tspn garlic powder
2 quarts popped popcorn
Procedure:
1. Ina large mixing bowl combine all the seasoning together.
2. Put all the popcorns in the bowl and toss so that all flavors coat well to the popcorns.
Serving:
Serve the delicious BBq flavor popcorn as tea time snack.